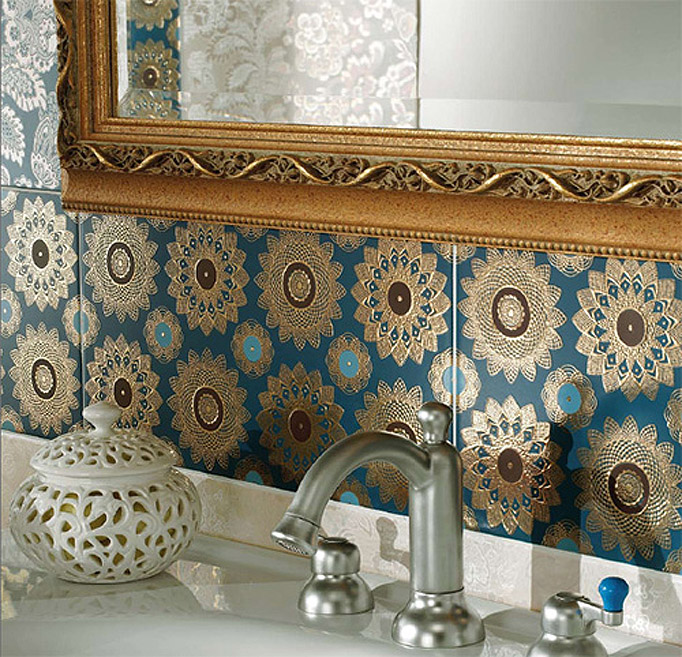 Though there are plenty of new ideas to renovate a bath design, but some homeowners are so meticulous about choosing just the right thing that they never compromise with anything. When planning a luxury bathroom, the most daunting prospect that most of us bear is the wall color. Some choose to paint it over completely with a high formula paint solution, while some love to have wall tiles to save their small bathroom from moisture. Whatever may be the idea behind using wall tiles, but one thing is for sure and that is modern interior.
Yes, wall tiles have been an optimum choice of renovating a bathroom and when you have choices like 'Turquoise ceramic Tile by Cermica Lord', you always enjoy your bath. Whether you have ever tried blue in your bathroom or not, but this elegant turquoise will definitely enchant you in the first momentary look. The rich and vibrant color along with the magnificent pattern on the tiles beautifully blends fashion and architecture.
You can add a new style statement to your interior décor with these tiles. The gold in ornate floral and motifs bring in a luxurious touch to the bath and wonderfully sprinkle its turquoise magic. This eclectic piece of art is sure to rock your new bathroom and make your guests envy, that too, without making it heavy on your budget.
Website :
Ceramica Lord