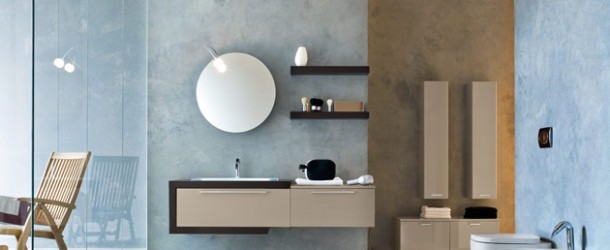 Bathroom is a part of the house intended for private sanitation. It is also a place where we can loosen up our tired mind and body to isolate us away from stress. Immersing in a half-filled bathtub has been a custom for a few to relax after a long tiring day. People feel refreshed after taking a nice shower and feel comfortable after attending to their hygiene. Basically, there are plenty of things a bathroom can offer that its definition does not only limit to as for personal cleanliness or a word used to euphemize as a room containing a toilet, but a room vital for people to meet relaxation at its best. So you might want to consider adding up an extra effort to beautify your bathroom to maximize comfort, space and aesthetics.
There are many style options to choose when setting up a design for your bathroom. You can pattern your design based on your personality or go with something that deviate the kind of plan you have in mind yet make it still visually attractive. But if you have the availability of space and budget then modern designs might just be for you.
Modern bathroom designs can set the room to a spa-like ambience with upscale amenities that includes granite countertops, modular storages, stylish lavatories, vanities and some lifestyle features. Elements of neutral color palette also bring out the modern appearance of the bathroom. It is marked with class and is undoubtedly elegant in terms of design feat. Modern designs escalate your experience to a more luxurious way of relaxing. To further give you more idea of what lavish living is, here are 15 Stunning Modern Bathroom Designs that will surely fascinate you.
Rush Bathroom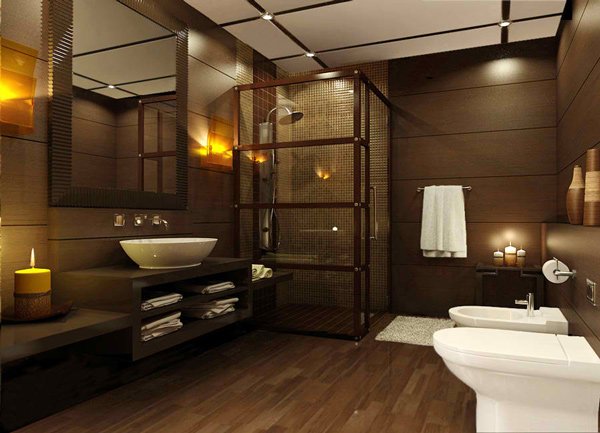 Designer: Acen
Engineered wood flooring and wood cladding in brown monochrome design paired with decorative tiles in the wall gives this modern bathroom a classy look.
Master Bathroom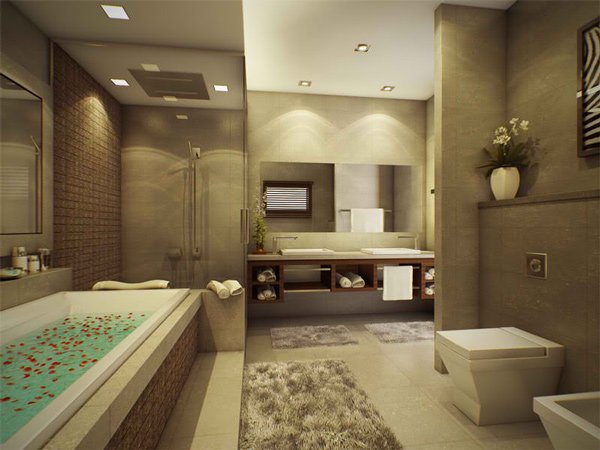 Designer: F-41
Lights are a perfect medium to draw out the refined beauty of the materials.
Bathroom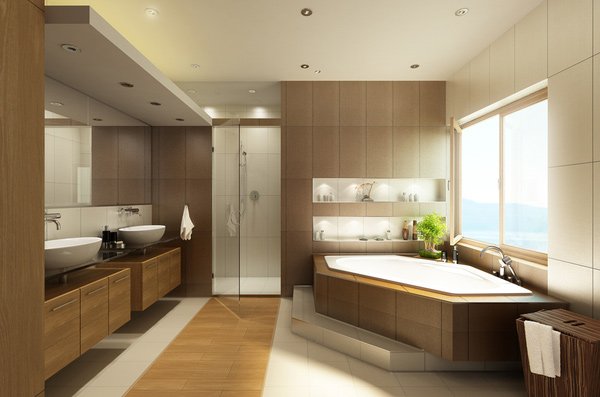 Designer: Mateusz Ludwinek
A visualization of a modern design bathroom done in 3d rendering.
Master Bathroom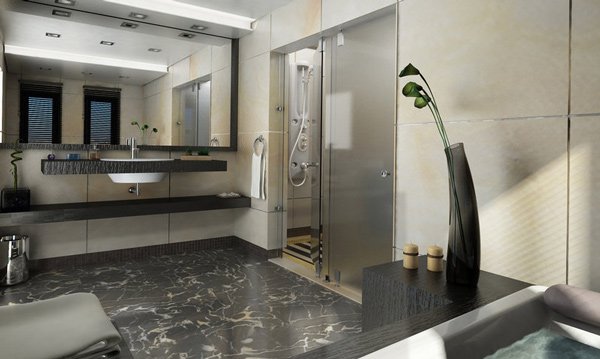 Designer: 3DZONE
Putting a large mirror in your bathroom does not only add beauty but widens your space by means of optical illusion.
Master Bathroom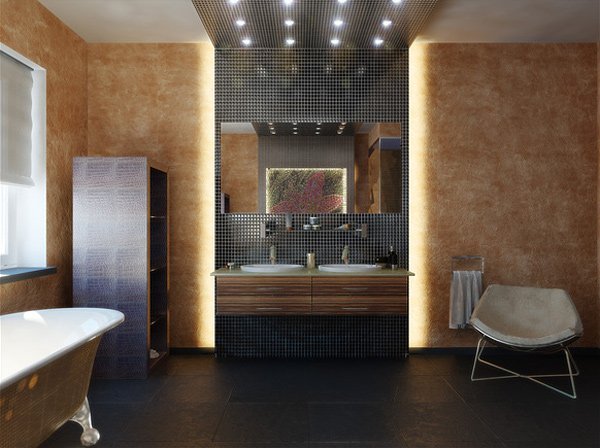 Designer: Serj Rubalevsky
Cove lighting creates a gap between the wall and the finely done tile mosaic wall making it more appealing to the human eyes.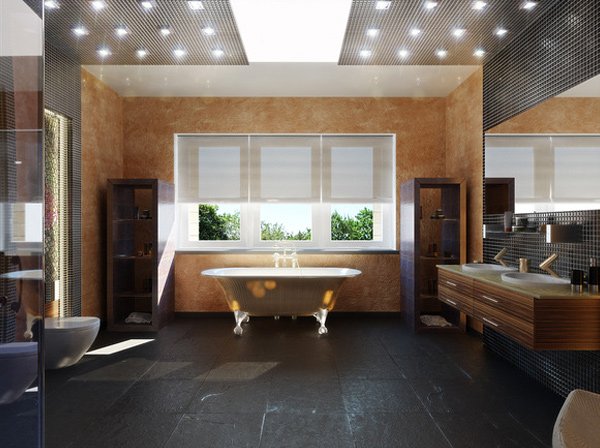 Designer: Serj Rubalevsky
Here, the bathtub is highlighted by the natural light it receives coming from the window.
Movenpick Hotel & Nightclub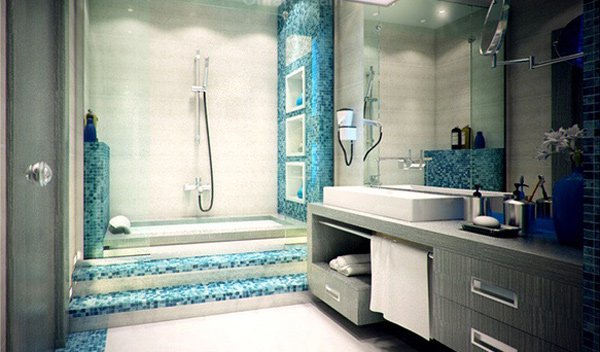 Designer: Omar Essam
The designer wants to project a cool ocean-like atmosphere in the room by using tiles in shades of blue. The idea is to create a soothing and relaxing feel of the water.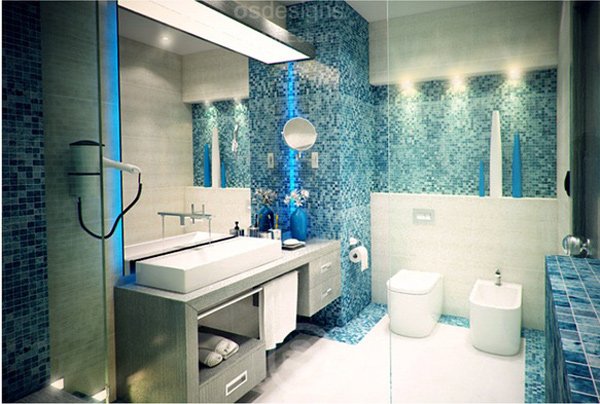 Designer: Omar Essam
The lights also add a dramatic touch to the room making the concept achievable.
Mauri

Designer:CERASA
The contrasting character of dark and light colours adds elegance and sophistication to the room.
Slim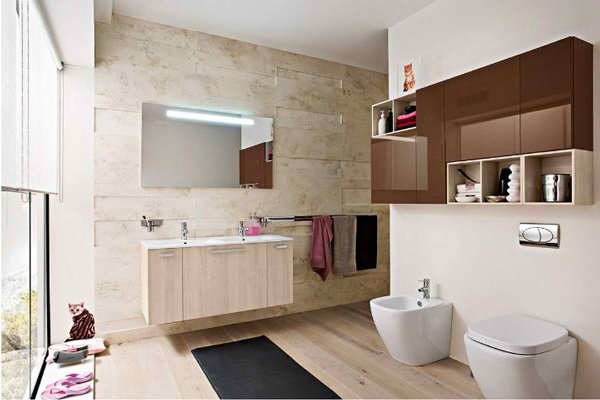 Designer:CERASA
The eye-catching glossiness of the cabinet doors in brown color well-complements the textured wall on the other side creating a visual balance in the room.
Play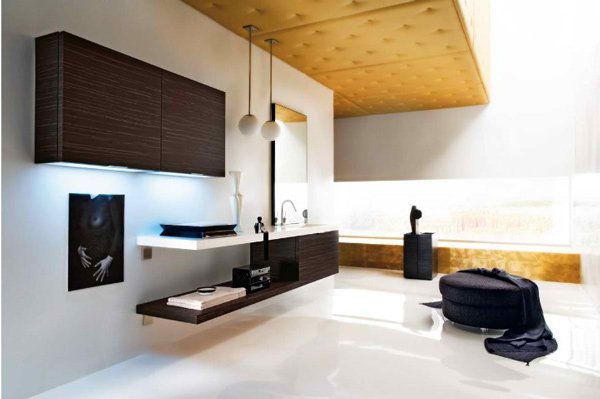 Designer:CERASA
High ceiling interior makes a room look more spacious. The rich intensity of the colors used to accentuate the cabinets, fixtures and the ceiling from the wall creates a sexy and interesting subject.
Private Residence in Rosslyn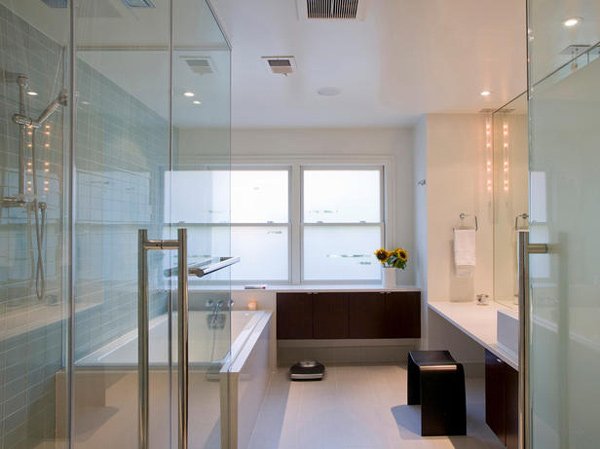 Designer:Andreas Charalambous, FORMA Design, Inc.
The minimal feature in this modern bathroom oozes out a comfortable feel. Simple and attractive.
Slim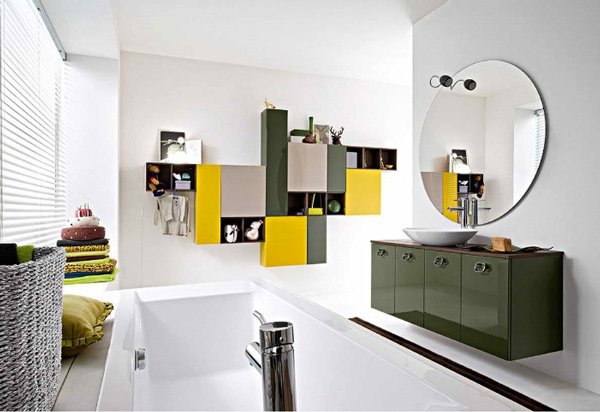 Designer:CERASA
The irregular shaped cabinet parallel to the large circular mirror serves as an aesthetic accent to the room while maintaining its functional purpose.
Master Bathroom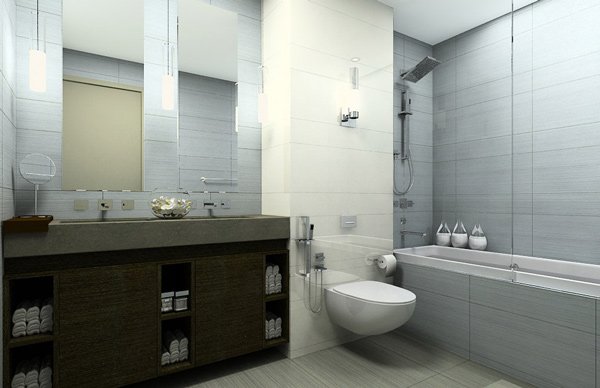 Designer:Jrtomarts
The revealing cuts of the tiles from floor to wall give this space a bolder look.
Bathroom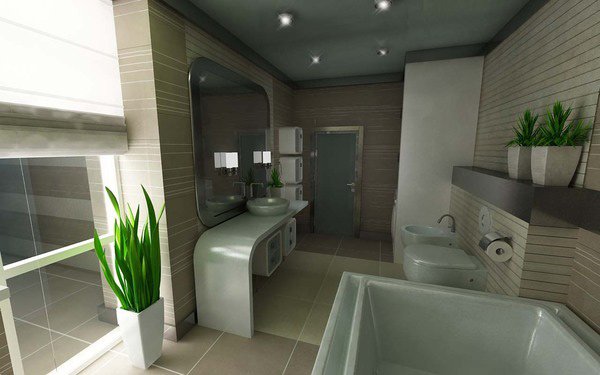 Designer:Victoria Bondarenko
The combination of straight and curve edges makes this modern bathroom an interesting piece of art.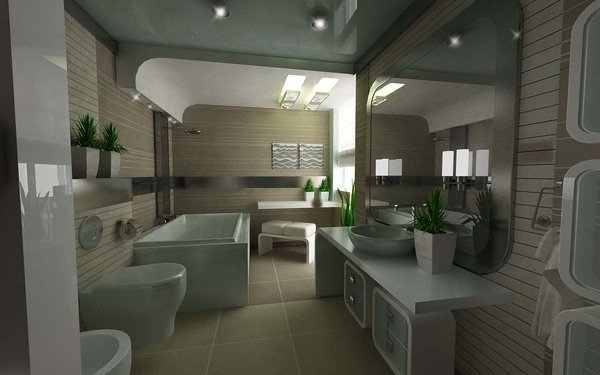 Designer:Victoria Bondarenko
Here's another shot taking from the entrance part of the bathroom.
Play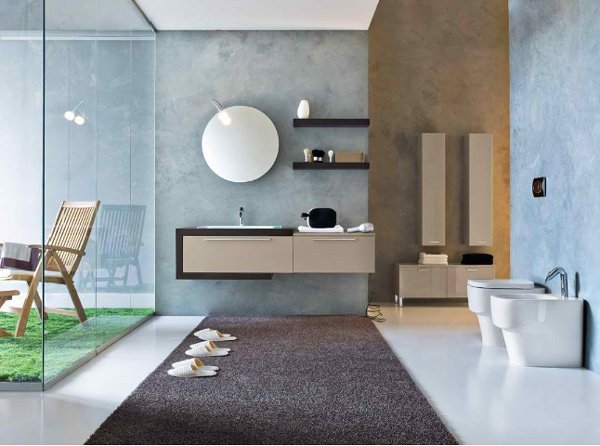 Designer:CERASA
The wall painting in earthly colours also serves as an artistic work.
Enot Residence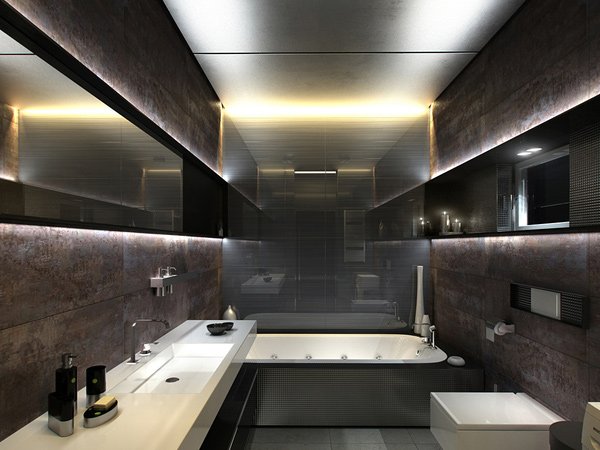 Designer:Anatolie Safroni
The rustic-like design of the wall and the semi-gloss finish of the center wall accent draw out the modernity of the bathroom.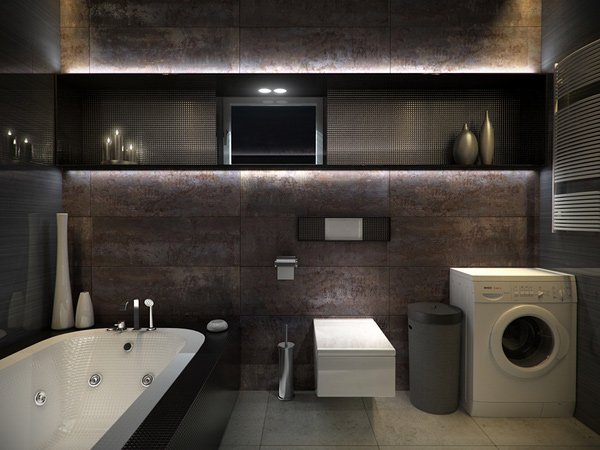 Designer:Anatolie Safroni
The bright lights highlighting the shelf washes out the tone of the wall design generating a more stylish elevation.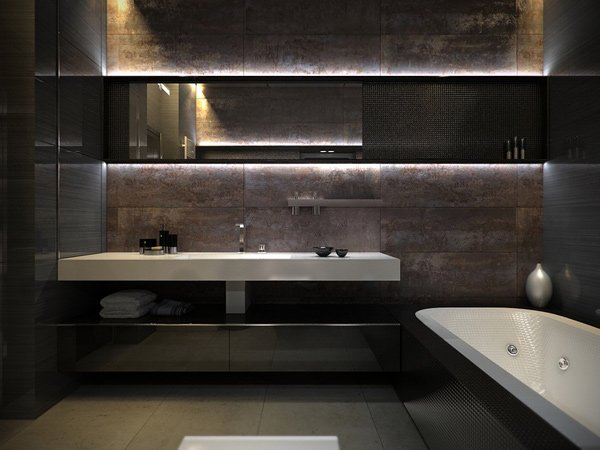 Designer:Anatolie Safroni
Another shot taken from a different angle of the area to showcase the elegant beauty of the countertop and the chrome finish steel cabinet. The color-coordinated and well picked material finishes make this modern design bathroom an outstanding creation.
There are a great variety of styles that you can incorporate when deciding for the kind of design you want for your bathroom. Home owners should opt for a design that is an extension of their taste. Modern design bathroom is just one of the many options one can choose.